I can get the updated Hopscotch to work.
"I use my iPad as a coding device."
When your iPad gets updated, Hopscotch might not work. It may turn sideways and say "updating application".  It will never complete, so you can follow these steps to fix it:
1. Download a shared project from mail. Tap the icon that says (projectname).hopscotch and hit 'Hopscotch'.
2. Let it download sideways, and it will tell you what's new. Press done.
3. Press the back arrow in the upper left corner. On the bottom of the screen, choose 'community'.
4. Choose a project you are interested in and press ▶️ (Play).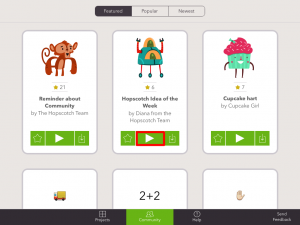 5. Your Hopscotch screen should have changed back to normal, and you can press X in  the upper right hand corner. Choose 'Projects' Tab to go back to your own projects.
-C. Deck